Blog Explore
Improving Engagement in Virtual and Hybrid Events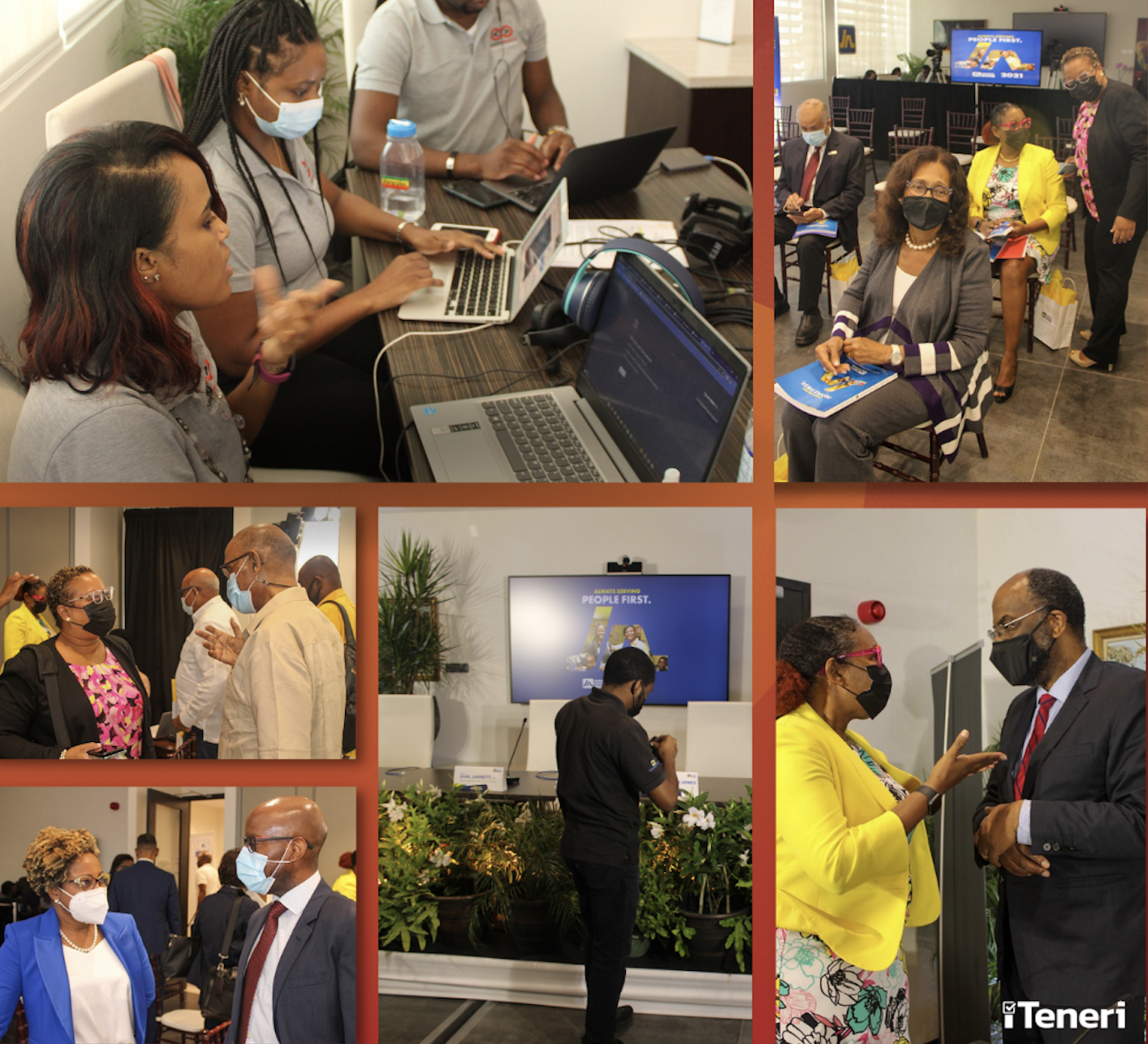 Iteneri admin
Improving Engagement in Virtual and Hybrid Events.
Virtual and hybrid event experiences have come a long way since the start of the pandemic, and we are about to hit a new stride in the evolution of online events. Hybrid events—whether they are conferences, agms or trade shows—are meetings that can be accessed in person at a physical location, or remotely via an online platform. A virtual event is any event that brings people together at the same time digitally. A virtual event typically happens live over video on platforms such as iTeneri, Zoom, Facebook Live, or Crowdcast and ranges from a small group conversation to a panel, fireside chat, or direct video livestream lecture, demonstration, or class.
One of the major challenges with hosting any of these events is keeping the audience active and engaged. According to Markletic.com, over 49% of marketeers say that audience engagement is the biggest contributor to a successful event. By hosting a virtual event or hybrid event, you can allow your audience to join from across the globe accommodating different time-zones, cultures and preferences. But how do you make sure your audience is engaged at all times? In this guide we break down 6 ways you can engage your audience and achieve a more successful virtual event:
6 Ways You Can Engage Your Audience and Achieve a More Successful Virtual Event:
1. Utilize Breakout Sessions
Breakout Rooms are small group discussions that occur after a keynote speaker or live learning module. Your Virtual Event attendees will be separated into small groups (either randomly or by assignment) to continue a conversation on what they just experienced and learned during the virtual presentation. iTeneri enables breakout sessions to be configured for virtual/hybrid events alike; this encourages attendees to engage on a smaller scale connected by a specific topic/interest.
2. Pre-event attendees engagement/communication
A person should be able to visualize their experience beforehand (a vision you, of course, will aim to exceed). By answering the who, what, where, when, and why you bring the attendee's imagination to life. They can envision what they will do, where they will be, who will be with them, and why the experience is valuable. Use a landing page, social media pages, an event website, invitations, etc. to communicate this basic information and motivate potential attendees.
3. Polls and Gamification
During a Webinar or Virtual Event, taking polls is an easy way to learn more about your audience and their experience level, check whether they can recall important information you have presented, or gather feedback on the efficacy of your presentation. So, how do you decide on the types of questions you should be asking your audience?
The iTeneri platform has the capacity to:
-Create a live poll in a matter of minutes
-Select from multiple poll-type options
-Display live poll results to all users
-Collect valuable insights about your attendees.
iTeneri Gamification features
Increase traffic to key spaces within your event and incentivize your audience to stay engaged with our virtual event gamification features. Gamification can be the perfect way to break the ice and create a comfortable and approachable environment for your attendees to connect with speakers, exhibitors, event leaders, peers, etc. There are so many advantages to integrating gamification into your virtual events including:
-Boosting user interest, engagement and loyalty
-Turning attendees into participants
-Increasing ROI by setting event goals
-Creating networking opportunities
-Making it easier to connect with exhibitors, industry leaders, etc.
-Enforcing teamwork and collaboration
-Highlighting and promoting your sponsors
4. Pre-event and post-event surveys
Pre-event surveys
Pre-event survey forms not only allow you to plan for the present but also the future.
Ask your attendees what themes, speakers, venues, and foods they would like to see in
an upcoming event. This can help your team save time and effort while planning your
next strategy. They also allow event planners/organizers to organize their agenda better
and have speakers discuss topics that were expressed by the attendees.
The best way to understand the needs and desires of your target audience for an event
is to just simply ask them. When putting together pre-event survey questions, it is important to keep it simple and prioritize the information you want. Gathering a few key pieces of information from attendees can help events run smoother and maximize the value for those who are attending as well as those who are putting on the event.
Post-event surveys
It's no news that surveys are a great way to collect qualitative feedback to improve
future events. Post-event surveys can be used for your event to measure the satisfaction
of each event component and session, and see how many attendees would return to an
event. They also make it possible for participants to share thoughts and ideas with
management and provide feedback to speakers on their presentations. In addition, they
can help soften bitter moments at your event.
Your event surveys are above all a source of inspiration for your next events, whether
They can be online, hybrid or in-person. What type of sessions would they like to see on the
program? Which topics should be discussed? Who should be invited as a guest
speaker? What types of on-site activities would they enjoy? The best event ideas are
drawn from event attendees.
At iTeneri, we send post-event surveys on the client's behalf as well as to the client to
gain feedback on the event from the client's perspective. This post-event survey for our
clients helps us to improve on the event experience based on the feedback received.
5. Give people things to do: Virtual Marketplace/Booths
Attendees can browse a gallery of all the virtual booths present at your event in one
convenient window. iTeneri understands how important your brand is, which is why our
Virtual booths are highly customizable. Exhibitors can be highly creative, working off of
one of our beautiful existing templates and color schemes, or by creating their own
custom designs.
Exhibitors can also make their brand clearly identifiable, by uploading imagery such as
logos and banners, and even have videos on display that play when visitors arrive.
Lastly, to make sure that when visitors leave a booth they do so knowing everything
they can about your brand, we have given exhibitors the ability to not only present their
info but to provide all manner of multimedia documentation (such as leaflets and
brochures, short videos) to the attendees.
Also, when visitors come to your virtual booth, you will see them arrive, and when they
do you can chat with them by virtual chat or video such as Zoom API integration.
There's chat for every occasion!
6. Keep Attendees Informed with Push Notifications
Push notifications ensure that your Attendees do not miss anything and stay updated
throughout your event. Announce new changes in schedule, inform about upcoming
sessions or events, send reminders, or just interact.The host can easily keep its attendees
updated with small information using push notifications. The host can simply send a
notification from the admin panel to all the attendees or some custom attendees.
A push notification feature is useful especially when you need to inform your attendees
about changes in your event. In seconds you can easily announce any changes in your
session or changes in your event. It works amazingly for last-minute changes in the
virtual event schedule. Every successful event professional knows that audience engagement is the key to building and sustaining a loyal attendee following. There are a multitude of ways to get the attention of your audience, from interesting speaking sessions to interactive exhibit hall booths, to fun contests and networking cocktail parties, polls and surveys.
Technology plays a crucial role in successful event Common technology pain points that event planners are planning. Not only does it allow those in the events industry to do their jobs better, but it helps create an engaging and flawless attendee experience as well; a true win-win. iTeneri is a platform best suited to simplify all aspects of event planners planning processes with the events/AGMs.
Learn more about iTeneri today:
https://iteneri.com/
Sources:
https://www.meetingplay.com/blog/what-planners-need-to-include-in-a-pre-event-communication-plan
https://www.lailiveevents.com/blog/7-ways-increase-virtual-event-engagement
https://www.letsroam.com/team-building/resources/pre-event-survey-questions/